Hiking in Hong Kong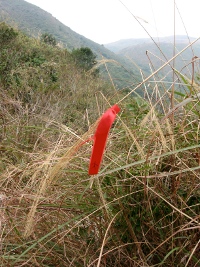 Trail marked by a hiker along the way to Nam She Tsim
Hiking in Hong Kong
Hiking is one of the most fascinating activities in Hong Kong. Though not exactly fitting to the subject of Higher Education System in Hong Kong, it is surprising to learn that Hong Kong is three-quarters wilderness and only one quarter urbanized area. The many smooth hills, rocks, and islands mix with skyscrapers and the ocean forms an infinity pool together with the blue sky. Altogether, this renders hiking in Hong Kong a truly unique experience.
Practical matters
No matter which place one wants to go hiking in Hong Kong, there is always some bus stop or subway station nearby. This conveniently allows to spontaneously organize and rapidly plan hiking trips. It is useful to both have the name of the hiking destination written down, and be able to pronounce it in Cantonese such that you can tell bus drivers to stop at the right time. Maps are not always helpful and difficult to obtain. Dense subtropical vegetation sometimes force hikers to backtrace. Yet, with some sun protection if necessary, one is ready to go.
Overgrown path up Victoria Peak
A local hiking group, the Hong Kong Trampers
[1]
, offers a superb possibility to explore unseen wilder parts, to find free-spirited hikers, and to meet people outside of the students' community. Good hiking seasons are fall and winter. Summer is not only very hot but also very humid a relative humidity of around 90% which makes one sweat profusely by just staying outside. The air is clear and dry in Winter, though it might become a little bit chilly at times (i.e. just need more than a tee, nothing serious).
Victoria Peak (太平山)
The most well-known hill in Hong Kong offers the best view upon the urban area of Hong Kong Island and Kowloon. Escaping the burger-eating tourists in the fast-food restaurant at the strangely shaped Peak Tower, one can soon find more tranquil places with at least as good view when walking around panoramic Lugard Road
[2]
, or by walking up the hill as far as possible. There are interesting trees with aerial roots along the narrow road.
Tai Mo Shan (大帽山)
Sunset as seen from Tai Mo Shan
The highest hill in Hong Kong is 957m above sea level and is a popular target for hikers. It has been claimed that one can even see over to Shenzhen in Mainland China on clear days. Unfortunately, the top of the hill hosts a military radio station which spoils the experience. Nevertheless, an awesome route starts at Fo Tan, leads up to Tai Mo Shan and then descends to Tsuen Wan. The region around Tai Mo Shan is home to herds of wild cows that belong to no one.
Ma On Shan (馬鞍山)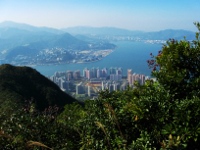 View from Ma On Shan down on Tolo Harbor
Ma On Shan definitely offers one of the most astonishing views of Hong Kong. It is located between Sai Kung and Sha Tin valley. At an elevation of 702m one can see skyscrapers towering above some hills in between, and also see Sai Kung Country Park, Clear Water Bay, HKUST, the Sha Tin valley, Tai Mo Shan. It also offers one of the few steep, more interesting paths in Hong Kong. Warning signs should always be read because they are reliable indicators for off-the-beaten trails. If you are lucky, you can see into monkeys in this area.
Nam She Tsim (蚺蛇尖)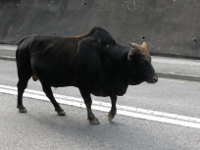 A bull belonging to no-one on the road to Pak Tam Au (北潭凹)
Nam She Tsim is located in Sai Kung Country Park and is also called Sharp Peak for its blade-like shape. It is in a sparsely populated region near an old Hakka settlement. From its top, one can see down to Big Wave Bay. The path to the top is exposed and it is more comfortable to walk up Nam She Tsim in winter. Sometimes wild cows take advantage of the existing roads and trails.
Tai Long Wan (大浪灣)
Tai Long Wan, or Big Wave Bay in Sai Kung Country Park is one of the most beautiful spots in Hong Kong. Small rivers flow into the ocean here. A (now no-longer, and not that) secret path leads up the river to small water-cascades with comfortably-temperatured pools of clean water. These water pools offer a refreshing, cooler, and foremost cleaner alternative to going for swimming in the South China Sea (also there are fewer sharks in the pools ...).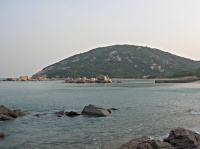 Tranquil bay on Lamma Island
Lamma Island (博寮洲)
Lamma Island is worth a visit. The island offers a rare view on Hong Kong island from the south and finally lures visitors by its fine seafood restaurants. Also, this island has rock formations that give clues about Hong Kong's geographical history, and it is interesting to combine the trip with another day's visit of the Hong ong Museum of History.
Lantau Island (大屿山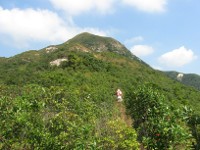 With Hong Kong locals on a trail towards Lantau Peak
Lantau Island offers plenty of trails, and is too large to explore in only one day. A highlight on Lantau Island are hidden trails that lead through rocky places along Lantau Peak. Big cargo ships can be observed from above as well as the surreal Chep Lap Kok airport that is built completely on reclaimed land. On Lantau Island, it is very convenient to have a local hiker with you who can show you the trails.
Sources
Hong Kong Trampers.

http://www.hktrampers.com

accessed 2011-12-22

Lugard Road.

http://en.wikipedia.org/wiki/Lugard_Road

accessed 2011-12-22