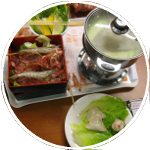 Culture in Hong Kong
Hong Kong is not only Business
Hong Kong people have a life besides working. They really enjoy eating, especially at times of celebration, though delicious food is an important topic throughout the whole year. Notable festivals in Hong Kong are the Mid-Autumn Festival and the Chinese New Year. Last but not least, one can find a lot of very cheap or even cost-free opportunities to explore Hong Kong; this comes as a surprise as the city otherwise is driven by uncoated capitalism.
Eating in Hong Kong
Cheung Chau Bun Festival
The Cheung Chau Bun Festival is a traditional festival whose major attraction is the snatching of buns from towers that are covered with buns (a bun is a Chinese kind of bakery product)
[1]
.
Mid-Autumn Festival
The Mid-Autmn Festival is a traditional get-together for the family. Moon cakes are specialities that are produced and eaten at this festival. Hong Kong people take the celebrations of this festival seriously. A special event at Mid-Autumn which attracts a large number of spectators is the Tai Hang Fire Dragon Dance, where a huge model of a dragon is carried through the streets
[2]
.
Chinese New Year
The Chinese New Year does not follow the Gregorian calendar and usually takes place around end of January or in the beginning of February and lasts for several days. It is the most important festival in the year and all the family gathers for celebration; hence the days around Chinese New Year are special also because almost the whole city seems to shut down - this is unique throughout the whole year.
[3]
.
Concerts and Museums
The Concert halls in Hong Kong host both classical concerts with Chinese-style instruments and classical concerts with European instruments. The tickets for such concerts are rarely sold out and it seems that concerts are not top priority on the list of activities. In any case, spending some time and efforts on acquiring tickets at discount rates pays off. Close to the concert hall in Kowloon, one can find the Hong Kong Museum of History
[4]
, which is a must-see for all visitors.
Sources